11 ACTIVITIES FOR COLD WEATHER RVING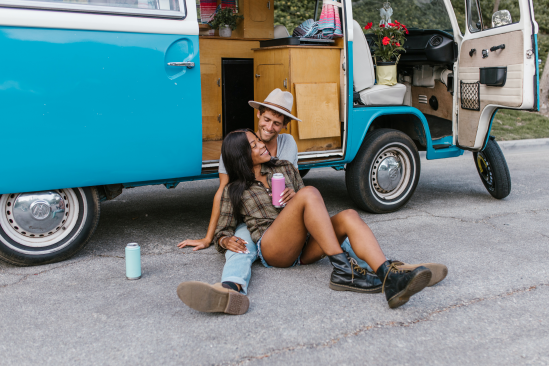 Many RV owners pack up their RVs for the winter, which isn't a bad thing if cold weather camping isn't your thing. But, you may be missing out on some fun winter RV activities by doing so. One of the bonuses of camping in your RV in the winter is that it is much warmer than tent camping. You get the added warmth, luxury, and comfort of staying in an RV while also getting to enjoy a unique way to experience the great wintery outdoors.
Here are some of the top activities we think you'll enjoy during your winter RV camping trips that may make this season one of your favorites to go camping. Not sure where to go to try out cold weather RVing? Start with our list of open-all-year KOA campgrounds.
WHAT SHOULD YOU DO WHEN RVING IN THE COLD? TRY THESE COLD WEATHER RVING OPTIONS
BATHE IN A THERMAL SPRING
There's a natural hot spring in at least 25 of the 50 American states, and some states have dozens. Soaking in a thermal spring is warm and relaxing. Some people believe that it provides numerous healing benefits.
 BECOME A SNOWBIRD
"Snowbird" refers to people who take care of their winter blues by relocating to warmer locations for the coldest months. RVers have the advantage in that they can not only escape the cold but also travel and see new sights in the process. Popular snowbird locations include Arizona, California, and Florida, and here's a list of the 25 most affordable snowbirding locations.
 GO ICE FISHING
Are you camping near a lake or stream? Try your hand at ice fishing. All you need is a standard fishing pole, bait, a way to cut a hole in the ice, and patience to wait for one of them to bite. If ice fishing is common in the area, you are bound to find kindred souls who will teach you the ropes.
      4. Charge your RV's devices with solar panels
The premise of all activities is that the power of the equipment is sufficient. When you are playing outdoors, you may wish to use the moolsun solar panel to charge various equipment. When you return to the RV, you will not face a sudden power failure. Portable solar panels are one of the necessary equipment for RVs!
GO SNOWSHOEING OR CROSS-COUNTRY SKIING
Snowshoeing and cross-country skiing are easy to learn and fun for all ages. Whether you own your equipment or need to rent some, consider undertaking at least one of these on your next winter RV trip. Even better, they both burn up a lot of calories, so you can reward yourself afterward with something deliciously indulgent without having to worry as much about adding pounds.
GO ICE SKATING ON A FROZEN POND
In many areas of the U.S. and Canada, skating on frozen ponds and lakes is a highlight of nearly every winter season. If you are lucky enough to be RVing in one of those areas, give it a whirl! Remember that in old movies, most ice skating took place on frozen ponds and lakes instead of indoor rinks.
TRY JOURNALING
Psychologists say that journaling can help reduce stress, boost health and well-being, chase away negative thoughts, help process emotions, deepen self-discovery, and even more. There's no better time to start journaling than during the peace and contemplation of an RV trip, particularly in winter.
LEARN NEW HOBBIES
The winter evenings are perfect for knitting, crocheting, and embroidery. Pack supplies and an instruction book and dive in. YouTube also offers helpful instructional videos.
LIVE IT UP WITH THE LOCALS
There will be many local activities near your camp regardless of where you go. Winter festivals, parades, and markets are prevalent. Do a little research on the web or stop by the area visitor's center for some recommendations.
MAKE S'MORES OVER THE CAMPFIRE
Did your family make s'mores as a child? We're talking about roasted marshmallows and slabs of chocolate bar sandwiched between two graham crackers. If you haven't made these in a while, it's time to relive a favorite childhood pastime.
HAVE A MOVIE NIGHT
Pop some popcorn and sit down for a movie marathon. Watch at least two movies back-to-back with a short intermission – just like the old-fashioned drive-in movie theaters.
PLAY CARD AND BOARD GAMES
At night when it's darkest and coldest, enjoy the warmth inside your RV and play card and board games with your family or neighbors camping nearby.
 The above content is reproduced from: https://koa.com/blog/cold-weather-rving/
---