Solar charging panel review: Fearless charging outdoors!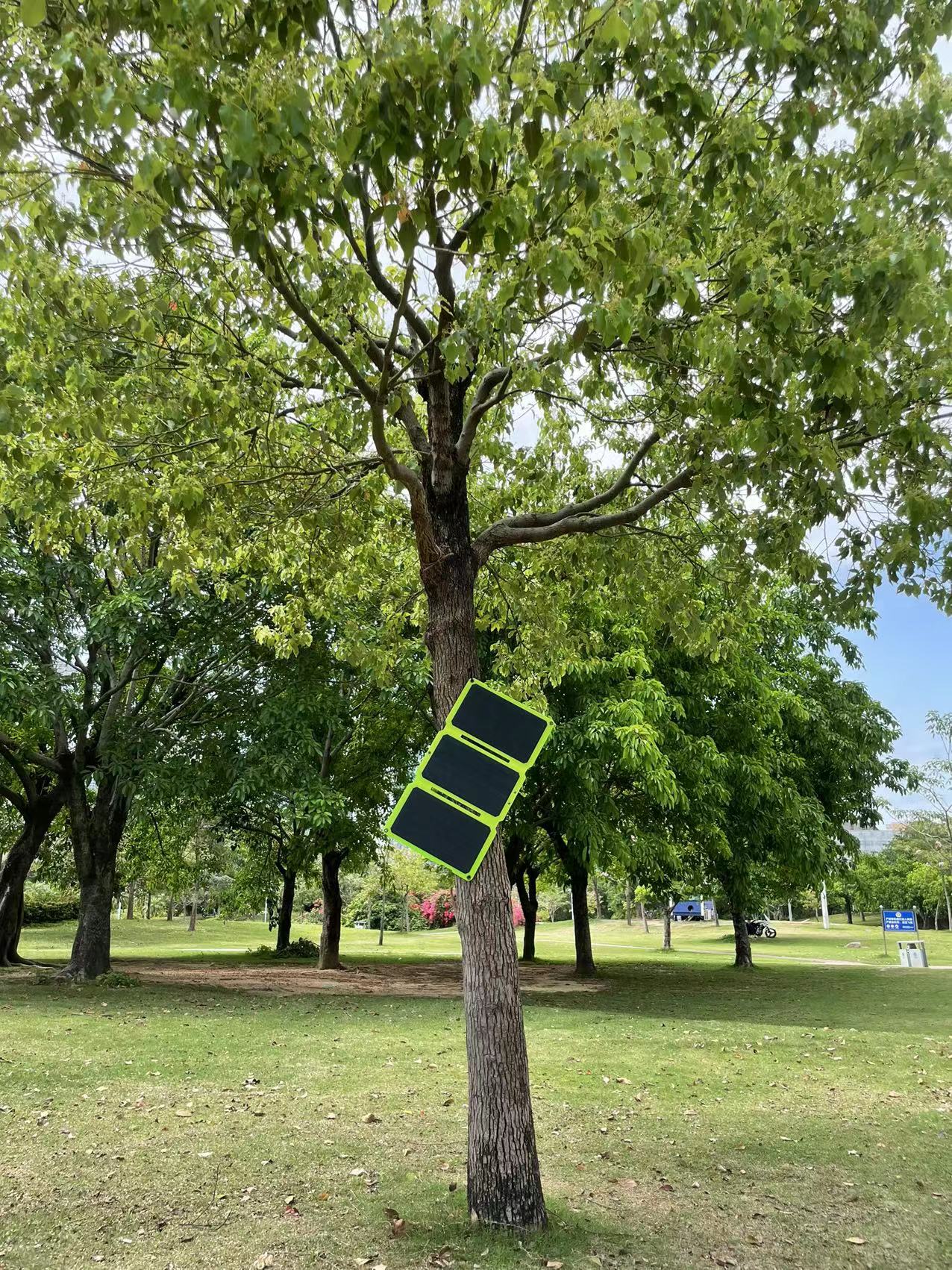 I chose the MoolSun solar panel, and then I will show you its evaluation.
[Product Display]
1. Appearance display
The overall design looks very cool, and the color combination of green and black is full of technology. The charging pad is folded, and despite the three-layer thickness (12.8*7.5*0.6 Inches (when folded)), it is still very thin, and the weight of 1.63lbs (0.74kg) is very light in the hand.
When unfolded, there are three mono silicon panels that can convert solar energy into electricity for various devices outdoors.
This solar panel also has a unique design with a foldable support frame that allows the panel to be fixed at a better angle to capture more sunlight!
There is also a thoughtful design of small lugs on the side, which can be paired with mountain buckles, not only to attach the solar panels to your backpack to carry around, but also to lower branches for more sunlight on outdoor trips!
The charging interface is on the surface of the solar panel, and there are three 5V 2.1A USB interfaces for almost all 5V Android devices and Apple devices.
【Material Analysis】
The outer shell is made of smooth waterproof fabric, and the inner is made of ETFE material, so there is no need to worry about unexpected rain.
【Function Evaluation】
1. Conversion efficiency evaluation
Whether the solar charging panel is good or not depends on its conversion efficiency. It uses a sunpower mono silicon panel, which has a higher conversion efficiency of up to 25% compared with ordinary mono silicon panels.
Under the sunlight, the phone is charged to 25% in half an hour, so I am very satisfied with the effect.
2. Wear resistance evaluation
Since solar panels are often used outdoors, the wear resistance of the product is relatively high, so let's test its wear resistance together: through the photos, we can see that even if the surface is scratched with a knife, the shell and the inner panel also showed no scratches. Five stars for wearability!
3. Security evaluation
Although the power bank is solar powered, safety cannot be ignored. I checked, this power bank has a built-in battery, so it doesn't matter if it is exposed to high temperature, and it can be brought on the plane; in addition, it has a smart chip technology that can automatically identify the voltage of the load and automatically match the high-quality Power supply scheme, so there is no need to worry about damaging the service life of electronic products.
[Evaluation Summary]
This is really a great solar charging board. It is light and portable, and it has a very high appearance. It can not only be put in a backpack, but also used on the back. It does not take up any space at all, and the conversion efficiency is also very high. Really great for outdoor use! If you just use it outdoors, it can meet your needs!
 Portable Foldable & Flexible solar panel charger. 
Looking for distributor and agent partner.
OEM/ODM/design on customer requires
  If you are interested in this, please follow and contact us.
---